About Us
Our original store located in Gaslight Alley for 25 years closed in 2019. We've relocated to the White Mountains in Arizona. We are still making jewelry and filling all web orders as received.
This website is dedicated to Our Specialty, Elk Ivory Items. We've made thousands over the past 30 years and would love to create some for you.
Our Jewelry line is on ETSY, they do not allow elk ivory sales. Click here to visit our ETSY.
We offer hand made reasonably priced sterling silver, and gold jewelry, as well as ladies jackets and vests. Our offerings of mountain lifestyles jewelry, clothing and gifts are inspired by the unique wildlife, scenery and activities occurring in and around the mountains and desert.
We incorporate unique materials like Elk Ivory and other minerals and gems such as azurite, malachite, gaspeite, and turquoise, we use many raw materials self collected from local areas of Wyoming and Arizona, those offerings may include elk ivory, agate, jade, opal and local petrified wood. We hand cut, polish and finish our stones from scratch starting with a piece of rough stone and ending with a beautifully finished gemstone.
We cut and polish most our own stones that you find in our jewelry. We often use reclaimed silver in our jewelry. Our scraps are melted down and hand wrought or cast into ingots that are then rolled in a rolling mill to form sheet and wire. Our favorite stones are ones we collect ourselves, but we have a great many friends that are rockhounds from which we purchase or trade for rough to cut from. We hope you enjoy our jewelry. Thanks for visiting our website.
---
About the Owners: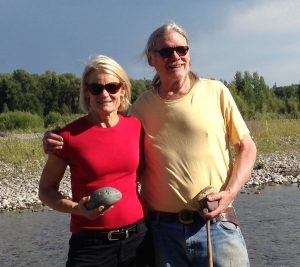 Gerard and Karla Kindt are the owner operators.
Gerard designs and makes many of the silver and stone items while Karla designs and creates most of the earrings and necklaces. A Cle Elm Washington Native, Karla attended Washington State University. She migrated to Jackson Hole via working in Yellowstone several Summers. Her design background includes designing skiwear for several national outerwear companies like Serac and Powderhorn mountaineering. After graduating from Penn State he moved to Jackson where Gerard tended bar, installed carpet, and started a T-Shirt Company in the 1980's. While his outside interests usually included some sort of artistic endeavors his real artsy side was not fully realized until he and Karla purchased the Teton Art Gallery business some 20 years ago. At that time Karla ran the store and Gerard was appraising commercial real estate, he would occasionally work in the store clerking and making jewelry. Included in the business purchase were silversmithing tools and findings which both Karla and Gerard utilized and taught themselves their current talents. We specialize in moderately priced sterling silver items incorporating elk ivory, turquoise, jade and opal as well as other local gems and stones. Our full time move to Arizona will not slow us down.